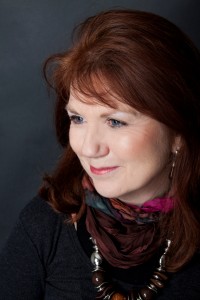 Kim Major-George is a well known British artist / printmaker who specialises in texture and hand-pulled collagraph printing. Her collections to date have been influenced by her personal journey and study of Ancient civilizations, their philosophies, mythologies and spiritual images.
After graduating from Art and Design college, Kim's art career has spanned over 30 years from surface pattern designing for the gift industry, teaching Art and Design, to book illustrating in the 90′s. Her work load with high profile clients like Habitat, Harrods, John Lewis, Safeways, Debenhams and Boots took its toll and, as a result, her own personal health suffered; a rethink into where she was going was urgently needed. Her journey into the esoteric world and the consequential imagery that followed was a result from the quest to find a work/life balance.
She found a commercial outlet for her personal imagery in the Mind Body and Spirit industry through books, magazines, cards and promotional literature and commissions for her very evocative imagery of dream landscapes, other dimensions, astrological imagery, angels and unicorns.
The journey into collagraph printmaking came on the back of an interesting book brief, requiring images from the mythological world of Lumeria, the time before Atlantis. This process so intrigued her she followed it through, by layering the images up with mixed media, iridescent metallic threads and precious foils, taking hand-pulled collagraph prints in a new direction. She has now taken her hand embellishing further, with many of her large gallery pieces exploring texture and the marriage of collagraph with tarnished embossed metals, soluble fibres, natural barks and stitching.
She now supplies galleries, fulfils commissions from private clients, sells and demonstrates at prestigious art shows, teaches printmaking from her studio in her Art & Soul collagraph workshops and writes for magazines and lectures on the wonders of collagraph and its marriage with texture. She is the author of " Collagraph – a journey through texture " – fast becoming the definitive book on collagraph. Kim Major-George is the President of the Beds Bucks & Herts Print Society.
Looking for a present for someone Special ?
See my new range of unframed prints HERE
See Kim's latest short film featuring her latest exhibition "Spirit of the Earth".
See Kim's short film featuring her touring exhibition "Where are we Going", a exhibition of Art & Poetry in collaboration with contemporary poet, Steve Thorp in 2012
'Collagraph, a journey through texture' NOW AVAILABLE !
Go HERE for INFORMATION and to ORDER by Post