If you would like to buy either or both my books, please go to the foot of the page and select the required option, making sure to also select the correct postage destination.
If you buy both books at the same time you receive a total discount of £1.50 PLUS a postage saving
Collagraph – a journey through texture.
Website price – £15 plus postage of £2.50 UK, £7.00 Europe, £11.00 Rest of the World
(RRP – £16.99)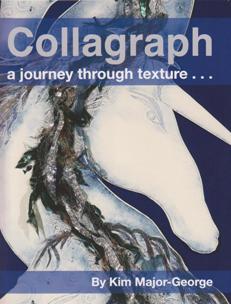 This comprehensive beautifully photographed book is a must for any one interested in collagraph and all aspects of relief printing.
This colourful book takes the reader on a comprehensive journey from simple plate making , printing on paper, fabric, printing from plastic and fabric, mono printing, blind embossing, to hand embellishing with many textured materials and the beautiful strong coloured multi coloured rubs, all described in simple terms and photographed throughout.
The later part of the book covers – How did she do that? – a breakdown of some complex Gallery pieces, Artist and Student show cases, useful addresses and contacts.
Another aspect of this printing book with a difference is the interlocking of thought provoking quotes, affirmation and esoteric information gathered together by artist Kim Major-George on her own spiritual artistic journey. This book has the added advantage of being not only a modern "printing with texture" Art book but also a book which will make the reader feel encouraged and valued.
COLLAGRAPH, a journey through texture
………………………………………………………………………………………………………………… Click 'FS' above for full screen
"Come to the edge", she said. They said, "we are afraid". "Come to the edge", she said. They came, she pushed them – and they flew.
—————————————————————————————————–

"All Cracked Up" – the first of a series of four volumes of my new Master Class series is now available to purchase.
Website price – £10 plus postage of £2.00 UK, £4.00 Europe, £6.00 Rest of the World
(RRP-£12)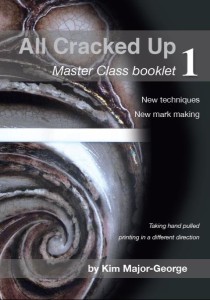 I have created the first of a set of four A5 Master Class booklets, each exploring a very different printing or finishing techniques that have become my speciality. The books consist of many project breakdowns and detailed accounts of how I achieved the end results, including unusual mounting methods.
These A5 booklets, printed in full colour with many unusual features, are ideal technical books, with a difference, for printmakers and artists wishing to explore mark making rarely seen in the world of hand pulled printmaking.
………………………………………………………………………………………………………………… Click 'FS' above for full screen
"Allow yourself to cross the frontiers between the known and the unknown, seizing the adventure and see your luminosity shine".
——————————————————————————————————-
If you would like to order a book please use the appropriate "Buy Now" buttons, choosing the correct postal location on the drop down menu. The price shown is the TOTAL of book price plus variable postage. You will be directed to Paypal, where you can pay either, with your Paypal account if you have one, or by using any major credit card on the Paypal website. We don't have access to your credit card details – they are dealt with on the Paypal secure website.
If you want BOTH books, select the "BOTH BOOKS" button and I will offer you a total discount of £1.50 on the book value and there is a no extra postage for sending "All Cracked Up" at the same time
The postage cost differs depending on your address so please use the correct option, otherwise your order will be delayed.
You can enter some words of dedication, if you choose, in the boxes provided.
Orders are dispatched within 2 working days of purchase.
All prices shown are Pounds Sterling
Collagraph, a journey through texture
All Cracked Up – Master Class booklet 1
BOTH BOOKS