'Where are we Going ?'
UK Tour 2012 – 2013
Exhibition by Kim Major-George & Steve Thorp
A thought provoking exhibition of stunning hand pulled prints by Kim Major-George and framed poetry by contemporary poet Steve Thorp linking together for this UK tour.
This exhibition highlights the Global Shift talked about by today's modern prophets and for thousand of years by the Ancient Elders and indigenous groups.
Kim and Steve both feel passionate about the need to replace the unsustainable models that are currently in use and redirect our advanced technology to create a cohesive civilization that works with Gaia and leave a world of plenty for our children.
This working partnership has come about after the successful collaboration these two artists created in 2009 on a touring exhibition entitled 'The Wisdom of peace' , that exhibition was greatly admired and went to four different venues up and down the country.
This new exhibition collaboration in 2012 – 2013 covers some venues in England, then to Wales in December and then on to Scotland in 2013 ( dates to be confirmed)
About the Artists
Artist /Printmaker – Kim Major-George
is known for her spiritually themed images, reflecting her own personal journey, her interest in poetry, philosophy early spiritual iconography, Ancient civilizations, and mythology. She likes to work with poetry and finds the marriage between images and words often forms the starting point to her work.
Steve and Kim work hundreds of miles apart but, uncannily often work very much along the same lines, coming together as the themes and creative thoughts begin to resonate, and if they both feel it is right they work on taking it forward. This felt right and an exhibition, tour and new book has been the results.
Words from Kim …"I come from a spiritual but pragmatic view of the global shift that is taking place throughout 2012 and beyond and the constant themes of finding new ways to fulfil man spiritual and material needs dominate my new work. I find the ancient visionaries, from the Hopi Elders saying 'We are the ones we have been waiting for' to the modern visionary view of 'Break down or break through' says it all. I believe the need to come together collectively to evolve and rethink this modern, all consuming world, is a priority before we are made to change by events outside our control" .
Poet /Therapist/ Activist – Steve Thorp
is a consultant psychotherapist , integral coach, activist and contemporary poet who has been working and writing in the fields of human wellbeing and education for over 30 years. Inspired by his many clients, the ideas and words of James Hillman, the Dark Mountain Project and others, his writing and teaching is now about 21st Century Soul – a suitably, indeterminate force of human imagination and identity for an uncertain world. He is currently writing his new book entitled 'Coming Back to Life' where he explores this theme in greater depth.
Words from Steve … "The need for change is becoming urgent – but I know this can't be achieved by activism alone – nor through a faith in some spiritual evolution. There's a necessity for integration and indignation, for dialogue, uncertainty and courage. There's a simple need for people to face what is lost, live good and creative lives and to be the change we want in the world. This is what these visual poems are about. It is, at once, a meditation, a lamentation and a gentle call to arms".
Steve has published a number of well-received poetry pamphlets under the creativethorp imprint and works as an integral coach, therapist and consultant. Steve also blogs the small stuff at his Psycho-bubble site!
Steve's work can be viewed on his website www.lifescape.org.uk
'The Fixing of Things' By Steve Thorp and Kim Major-George
Full coloured A5 Book of Poems by Steve Thorp and images By Kim Major-George
Available to purchase below or from Steve Thorp on his website :
http://www.creativethorp.com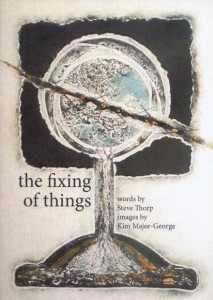 The Fixing of Things – £10.00 + variable postage
Please select your postal area from the Paypal drop down menu. The relevant postage charge is included in the total price
1. ANCIENT MEMORIES
2. 2012 ALIGNMENT (Black)
3. 2012 ALIGNMENT (Blue)
4. EYE OF THE WORLD (Black)
5. EYE OF THE WORLD (Blue)
6. THE FIXING OF THINGS
7. THE FIXING OF THINGS (Close up)
8. GOING WITH THE FLOW
9. THE NEW SHINING
Where are we going? - The New Era - Series 2 (press the blue i for frame sizes)-->
1. ORBS OF HOPE
2. CELLS OF LOVE
3. CELESTIAL VIEWS
4. GLIMPSES OF TIME
5. CIRCLE OF LIFE I
6. CIRCLES OF LIFE II
7. CIRCLES OF LIFE III
The Tour Kicks off :
JUNE
Hatfield House in Hertfordshire supported by Palace Green Gallery.
We are delighted that Hatfield House via Lady Salisbury is celebrating the Queen's Jubilee and has invited us to exhibit in the stable block as part of the visual entertainment open to the public, free during the bank holiday period.
Dates of Preview – Open to Public Mon 4th June 10:00 -7:00
Preview night Mon 4th June – 7:30 onwards Lightening of the Beacon Queens Jubilee celebration invitation only
Dates for exhibition – 4th June – 17th June
Palace Green Gallery
Stable Yard
Hatfield Park / Hatfield House
Herts AL9 5NQ 11:00 – 5:00
…………………………………………………………..
AUGUST
Ecological / Sustainability Conference Hampshire
Dates for exhibition – 17th – 19th August
Details to follow
………………………………………………………………….
SEPTEMBER
Walkern Gallery 'Peace One Day Celebrations
We are delighted that Walkern Gallery is exhibiting the 'Where are we going? 'Exhibition allowing us to link into the World Peace Day on the 21st September. All are welcome to come and join us for a candlelit gathering in the peace garden with poetry, music and special thoughts.
Dates of Preview – Friday 21st September – 7:00 – 9:30 pm
Including a Candlelit gathering in Peace Garden at 8.00 pm
Steve Thorp will read a selection of his poetry and Sue Bear will ring her large Ceremonial wind gong to connect the gathering to the Pulse of Peace being carried throughout 35 countries around the World.
Dates for exhibition – 13th Sept – 30th September ( also part of Open Studio Hertfordshire)
Walkern Gallery
56, High Street, Walkern
SG2 7PG
10:00 – 5:00 (Thurs. Fri. Sat .Sun.)
Click the link below to go to Walkern Gallery website
Walkern Gallery

………………………………………………………………………
DECEMBER
St. David's Cathedral ' Global Shift – end of the era.'
We are delighted that St David's Cathedral with the Gallery attachment ,Pembrokeshire Wales is happy to hold our touring exhibition to co-inside with the Global shift Day which is being celebrated all over the world Dec 21st 2012 (end of the Mayan calendar )
Dates of Preview – Fri 14th Dec 2:00 – 4:00 meet the artist & poet to hear readings and discuss the meaning behind this thought provoking exhibition.
Dates for exhibition 14th Dec – Jan 5th 2013
St. David's Cathedral Gallery
The Close
Pembrokeshire, Wales
SA62 6RH
11:00 – 4:00
Further venues throughout Scotland and the England to be announced for 2013.